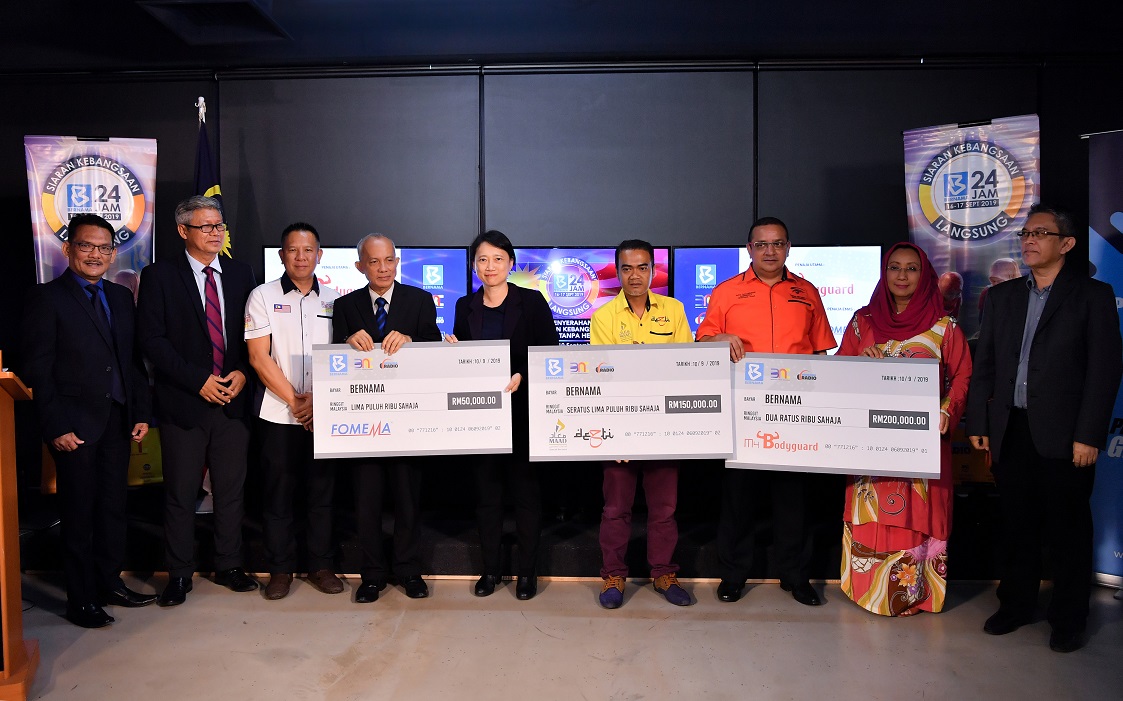 Malaysian National News Agency (Bernama) Chief Executive Officer Nurini Kassim (second, right) poses with the main sponsor of the Longest Live Non-stop Multilingual National Broadcast TERRA Security Monitoring Sdn Bhd, represented by its President Datuk Baharuddin Hamzah (third, right), MAAD Travel Sdn Bhd, represented by Mohd Nor Khairil A Samat (fourth, right) and FOMEMA Sdn Bhd, represented by its Chief Executive Officer Kelen Leong Choy Fun (fifth, right) at a sponsorship ceremony for the broadcast at Wisma Bernama today. The broadcast on Sept 16 and 17, in conjunction with the Malaysia Day celebration, will be named on the Malaysia Book Of Records (MBOR). Also present Bernama Chairman Datuk Seri Azman Ujang (fourth, left), Operations, Research and Marketing Manager for MBOR Edwin Yeoh Tiong Chin (third, left) and Bernama Editor-in-Chief Datuk Mokhtar Hussain (second, left).
KUALA LUMPUR, Sept 10 (Bernama) --
The Malaysian National News Agency (BERNAMA) will attempt to create a Malaysian record in organising the "Longest Live Non-Stop Multilingual National Broadcast" on 16-17 September 2019, in conjunction with the Malaysia Day celebration.
The 24-hour event will be broadcast live on Bernama News Channel, Bernama Radio, Bernama.com and social media platforms.
The live broadcast will start from 7am on September 16 and is slated to end at 9:30am, September 17.
Some 200 editors, broadcast journalists, producers, cameramen, technical crew together with personnel from the non-editorial departments will be involved in the attempt.
The main broadcast and studio will take place in BERNAMA's headquarters in Kuala Lumpur, with hourly live-cross overs to cover the celebration in Kuching, Sarawak as well as other states.
This non-stop multi-platform live broadcast will be in the form of news as well as talk shows and will be in four languages namely Malay, English, Tamil and Mandarin. This reflects the uniqueness of Malaysia as a melting-pot of races and religions since Malaysia was formed on September 16, 1963.
The line-up for the live broadcast include appearances of ministers, government officers, corporate figures, celebrities, athletes and other icons.
Viewers and listeners will also have the opportunity to win an array of prizes worth RM81,000 including a grand prize of two tour packages to Jeju Island in South Korea, when they correctly answer quizzes which will be aired every hour.
To stand a chance to win prizes on Malaysia Day, tune in to BNC on Astro Channel 502, Unifi TV 631, MY 121 or iflix and BERNAMA Radio over FM 93.9 in Kuala Lumpur, FM 107.5 in Johor, FM 100.9 in Kuching and RM 107.9 in Kota Kinabalu.
SOURCE : BERNAMA

FOR MORE INFORMATION, PLEASE CONTACT:
Name : Zarina Rozali
Tel : 03-26969 2306/012-6859494
Email : zarinar@bernama.com

Name : Carolyn Fung
Tel : 03-2696 2307/012-2007686
Email : carolynf@bernama.com

--BERNAMA