KUALA LUMPUR, Nov 20 (Bernama) --
KLCCP Stapled Group has secured the extension of the existing triple net lease agreements with lessee, Petroliam Nasional Berhad (PETRONAS) for its office leases at the PETRONAS Twin Towers and Menara 3 PETRONAS. On 18 November 2020, PETRONAS exercised its options to extend the leases for PETRONAS Twin Towers and Menara 3 PETRONAS for a further term of 15 years from 1 October 2027 to 30 September 2042 and 15 December 2026 to 14 December 2041 respectively. The rental amount will be determined prior to the commencement of the extended leases.
This extension is a commitment of our lessee, reflecting the requirement of their office spaces in the future. PETRONAS is the master lessee for both the PETRONAS Twin Towers and Menara 3 PETRONAS, occupying a collective office space of over four million sq. ft.
KLCCP Stapled Group's office portfolio comprises the PETRONAS Twin Towers, Menara 3 PETRONAS and Menara ExxonMobil under KLCC REIT while Kompleks Dayabumi and Menara Maxis which is held via a 33% stake in Impian Klasik Sdn Bhd, are under the portfolio of KLCC Property Holdings Berhad. The office segment is the largest contributor to the KLCCP Stapled Group's revenue, contributing approximately 48% to the Group's current total revenue, of which 41% comes from both PETRONAS Twin Towers and Menara 3 PETRONAS.
"This lease extension will further reinforce the Group's stability, thus strengthening our position in the market and boost our efforts in delivering value to our stakeholders in the long term." Datuk Hashim Wahir, Chief Executive Officer, KLCC Property Holdings Berhad

About KLCCP Stapled Group
KLCC Property Holdings Berhad (KLCCP) and KLCC REIT, collectively known as KLCCP Stapled Group is Malaysia's largest self-managed stapled security that invests, develops, owns and manages a stable of iconic and quality assets.
KLCCP Stapled Group became the first ever Shariah compliant stapled structure in Malaysia upon the listing of KLCC Stapled Securities (KLCCSS) on 9 May 2013. As a constituent of the FBM KLCI Index, KLCCSS trades under the REIT sector of the Index as a single price quotation.
With KLCCP Stapled Group's core business in property investment and development, the Group has a diverse property portfolio largely located within the Kuala Lumpur City Centre comprising prime Grade A office buildings, a premier retail mall and a luxury hotel. The stabilised and wholly-owned assets namely PETRONAS Twin Towers, Menara ExxonMobil and Menara 3 PETRONAS are under KLCC REIT and the non-wholly owned assets and assets with development and redevelopment potential, Suria KLCC, Mandarin Oriental, Kuala Lumpur hotel and a vacant land (Lot D1) are in KLCCP. KLCCP also has a 33% stake in Menara Maxis.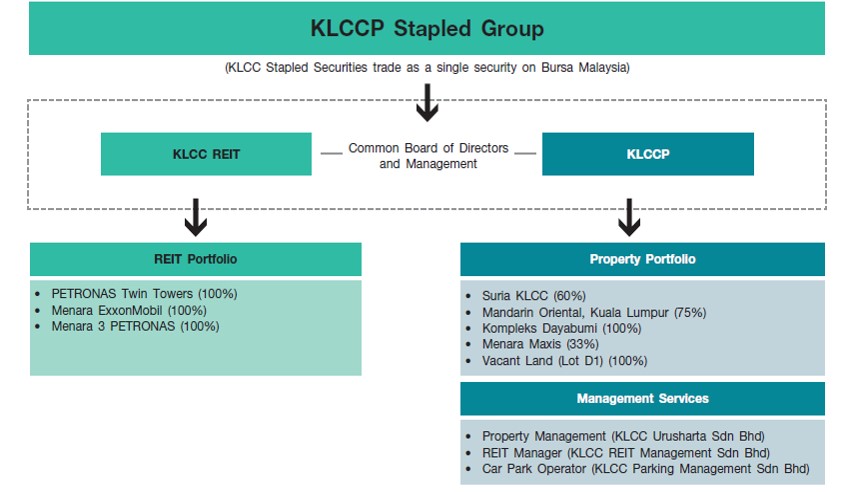 Two of KLCCP's wholly-owned subsidiaries, namely KLCC Urusharta Sdn Bhd and KLCC Parking Management Sdn Bhd, are engaged in providing facility management services and car parking management services respectively. The REIT Manager who is engaged to manage and administer KLCC REIT is internal and resides within KLCCP as a 100% owned subsidiary.
Issued by:
Corporate CommunicationsInvestor Relations and Business Development Department
19 November 2020
SOURCE: KLCC Property Holdings Berhad

FOR MORE INFORMATION, PLEASE CONTACT:
Name: Ms. Bindu Menon
Head, Investor Relations and
Business Development
KLCC Property Holdings Berhad
Tel: +603 2783 7291
Email: bindu@klcc.com.my

Name: Ms. Yasmin Abdullah
Corporate Communications
Investor Relations and
Business Development Department
KLCC Property Holdings Berhad
Tel: +603 2783 7584
Email: yasmina@klcc.com.my

--BERNAMA