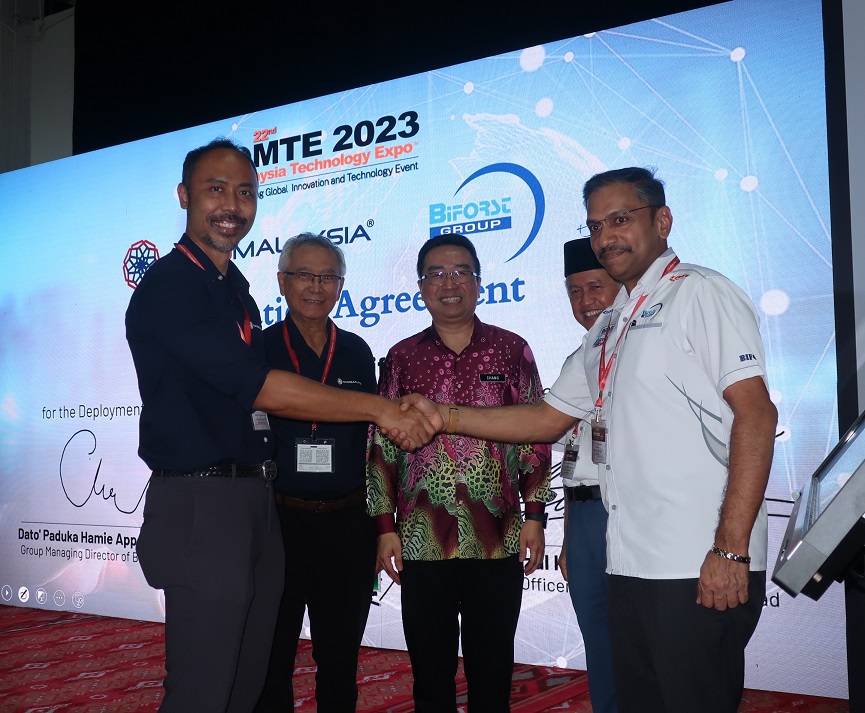 From Left:
Dr. Rezal Khairi Ahmad, Chief Executive Officer, NanoMalaysia Berhad

Prof. Emeritus Dato' Ir. Dr. Mohamad Zawawi Ismail, Chairman, NanoMalaysia Berhad

YB Tuan Chang Lih Kang, Minister of Science, Technology and Innovation (MOSTI)
YTM Dato' Muhammad Bin Haji Abdullah, Undang Luak Johol of Negeri Sembilan, Chairman of Biforst Berhad

Dato' Paduka Hamie Appala Nakkiah, Group Managing Director of Biforst Berhad during the Collaboration Agreement Signing Ceremony between NanoMalaysia Berhad and Biforst Berhad
KUALA LUMPUR, March 16 (Bernama) --
Biforst Berhad (Biforst), a leading logistic solution group, today announced its intention to invest in carbon-free transportation by adapting a state-of-the-art Hydrogen Hybrid Energy Storage System ("H2SS") on its transportation fleet by signing a Collaboration Agreement with NanoMalaysia Berhad (NMB), the leading agency for electric vehicle (EV) technology development under the Ministry of Science, Technology and Innovation (MOSTI). The collaboration enables the development, testing, deployment, commercialisation of a hybrid hydrogen-based power system based on NanoMalaysia's H2SS, which acts as an additional power source on top of the EV components which will replace the internal combustion engine (ICE).
The collaboration under NanoMalaysia's Rapid Electric Vehicle Innovation Validation Ecosystem (REVIVE) will see Malaysia's first ICE to EV truck conversion. REVIVE is a national programme to convert ICE (internal combustion engine) vehicles into EVs, including buses, trucks, motorcycles, and cars. This initiative aims to enable the adaptation of EVs in an alternative way compared to buying new EVs, which are generally 20-50% more expensive and to support Malaysia's target to reduce carbon intensity against GDP by 45% by 2030 and reach carbon neutrality as early as 2050.
H2SS is a hydrogen hydride system developed by NMB and its investee company, HyPERTech Industries Sdn Bhd. H2SS supplemented by solid state hydrogen reactor produces on-demand hydrogen onboard the vehicle through hydrolysis and is a potentially safer, lighter and cheaper solution compared to compressed hydrogen technology. By acting as a range extender, H2SS will enable the converted EV trucks to travel further without requiring frequent recharging, making them more efficient and reliable and addressing range anxiety.
Under the partnership, the project's execution and management will be carried out by NMB via its subsidiary Nano Commerce Sdn Bhd (NCSB) as the technology solution provider, while Biforst will act as the truck supplier and technology recipient.
The project has also identified the participation of key collaborators, including TERAJU along with selected local financing providers, for market deployment of the configured solution to ensure the alignment of stakeholders with value and supply chains, along with their support for effective execution. This partnership and technology integration into trucks and logistics operations unlocks a sustainability-driven ecosystem and creates a value chain of products and services to impact the local economy positively and aligns with Malaysia MADANI's pillars of innovation, sustainability and prosperity.
The Collaboration Agreement was signed by Dato' Paduka Hamie Appala Nakkiah, Group Managing Director of Biforst Berhad, and Dr Rezal Khairi Ahmad, Chief Executive Officer of NanoMalaysia Berhad, and witnessed by YB Tuan Chang Lih Kang, Minister of Science, Technology and Innovation (MOSTI), Dato' Muhammad Bin Haji Abdullah, Undang Luak Johol Negeri Sembilan and Chairman of Biforst Berhad, and Prof. Emeritus Dato' Ir Dr Mohamad Zawawi Ismail, Chairman of NanoMalaysia Berhad during the Malaysia Technology Expo 2023 (MTE 2023) at the World Trade Centre, Kuala Lumpur.
About NanoMalaysia Berhad Group of Companies
Nano Malaysia Berhad was incorporated in 2011 as a company limited by guarantee (CLBG) under the Ministry of Science, Technology and Innovation (MOSTI) to act as a business entity entrusted with nanotechnology commercialisation and industrialisation activities through a venture builder model. Nanotechnology continues to provide efficient and enhanced solutions to various applications in smart living, smart manufacturing, agriculture, electronic devices, energy and the environment. Nano Malaysia believes that the "Internet of Nano-Things", or IoNT, will be the core driver of the 4th Industrial Revolution, catalysing revolutionary changes in industry, business and society.
For Media Enquiries:
corporateaffairs@nanomalaysia.com.my
About Biforst Berhad Group of Companies
Biforst Group was incorporated in 2003 in Kuala Lumpur, Malaysia for provision of providing world-class one-stop logistics solution. It focuses on providing end-to-end, trusted, reliable, efficient, and value-added boutique solutions to FMCG (Fast Moving Consumer Goods) and pharmaceutical players of the ecosystem for ensuring maximum output of productions as well as consumption and sales. Biforst is committed to ensure its operation is in compliance to global standards by adapting revolutionised technologies.
For Media Enquiries:
ir@biforst.com
Source: NanoMalaysia Berhad

FOR MORE INFORMATION, PLEASE CONTACT:
Group Corporate Affairs
NanoMalaysia Berhad
Email: corporateaffairs@nanomalaysia.com.my

--BERNAMA